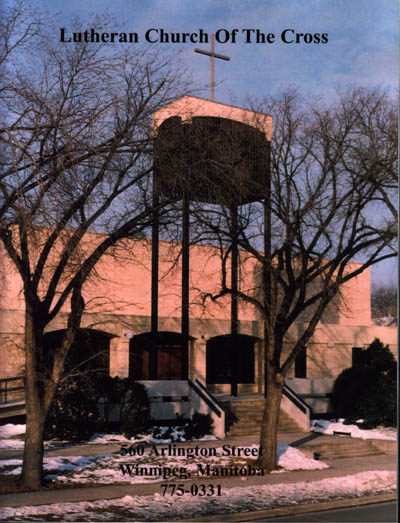 Lutheran Church of the Cross at 560 Arlington Street, Winnipeg, Manitoba,
is a member of the Manitoba Northwestern Ontario Synod (MNO Synod).
http://www.mnosynod.org
of the Evangelical Lutheran Church in Canada (ELCIC).
Evangelical Lutheran Church in Canada (ELCIC)
Worship is at 10:30 a.m. Sunday morning and Christmas and Good Friday.
Holy communion is celebrated twice a month.
The order of service and songs are from Evangelical Lutheran Worship.
The service including songs is projected on a screen above the chancel.
What is Liturgy?
Worship follows the pattern of Sunday Dinner.
Baptism, Remembrance of Baptism and Confession and Forgiveness are like washing hands before dinner.
Hearing and singing the Word is like the conversation around the table.
Receiving holy communion is like dining at the table.
Blessing and dismissal are like leaving the dinner table and taking leave.
We welcome everyone to come and join us for worship and participate in our community!
Getting Married, Baptism, Communion, Baby shower, Wedding Shower or meeting please contact Church office for availability at
204-775-0331. Church office hours are Monday and Thursday 9 a.m. to Noon and Friday's closed.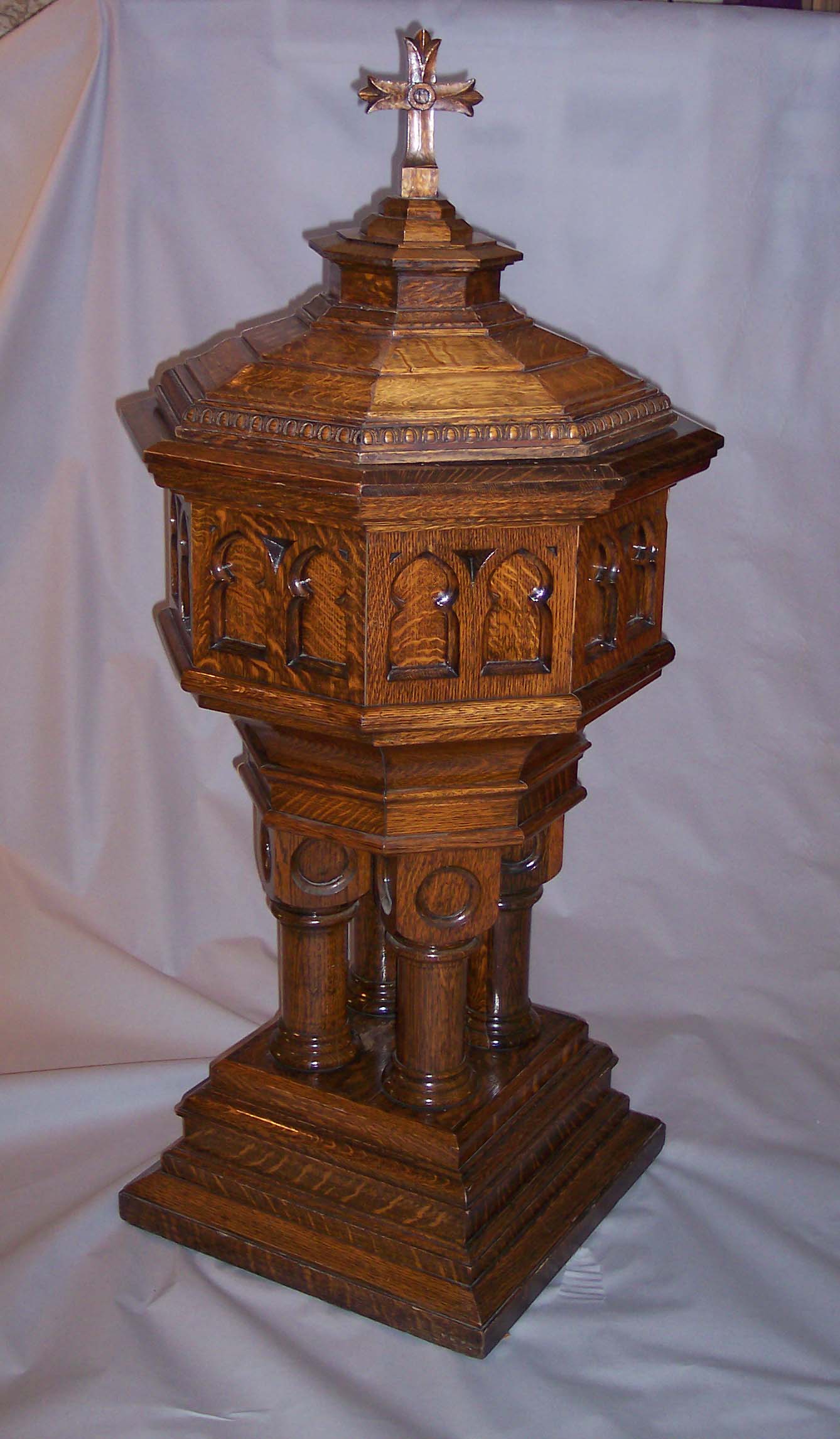 CHURCH ACTIVITIES:

Active Groups:
Choir:
Choir is led by our Music Director, Ian Walker.
Choir is active between September to June with a summer break during July and August.
Exciting and lively music offerings as well as traditional hymns.

Practices are held on Thursdays at 1:15 p.m. New members always wanted!
Ian Walker can be contact by e-mail iangwalker@hotmail.com
Ian began studying piano and joined his church choir when he was 7, and with only a few gaps he has been at it ever since. His family were all active choral singers, and his mother was the choir director.
When he was 29 and living in Peterborough he took up serious study of music: at one time he was going to four choir rehearsals a week. Later he became a church musician, gaining over 30 years of experience, in many different churches.
Ian has sung with several of the major choirs in Winnipeg. He is currently also the director of the Shalom Singers, a Jewish seniors choir. Among Ian's other musical talents are keyboard improvisation, solo singing, composition, and mandolin.
Music is an important part of Ian's life, but not the only thing. He worked for 25 years in Real Property management for the federal government, is a serious student of international politics, and enjoys gardening and house repairs.
He is married to Pastor Nancy Walker, and has 5 children and 5 grandchildren.
Golden Agers:
A Friday afternoon social gathering for seniors. The group has met regularly for 35 years. Activities include carpet bowling, table games and a social lunch together.
Golden Agers are meeting at the Arms of the Cross Lounge at 1:00 p.m. every Friday.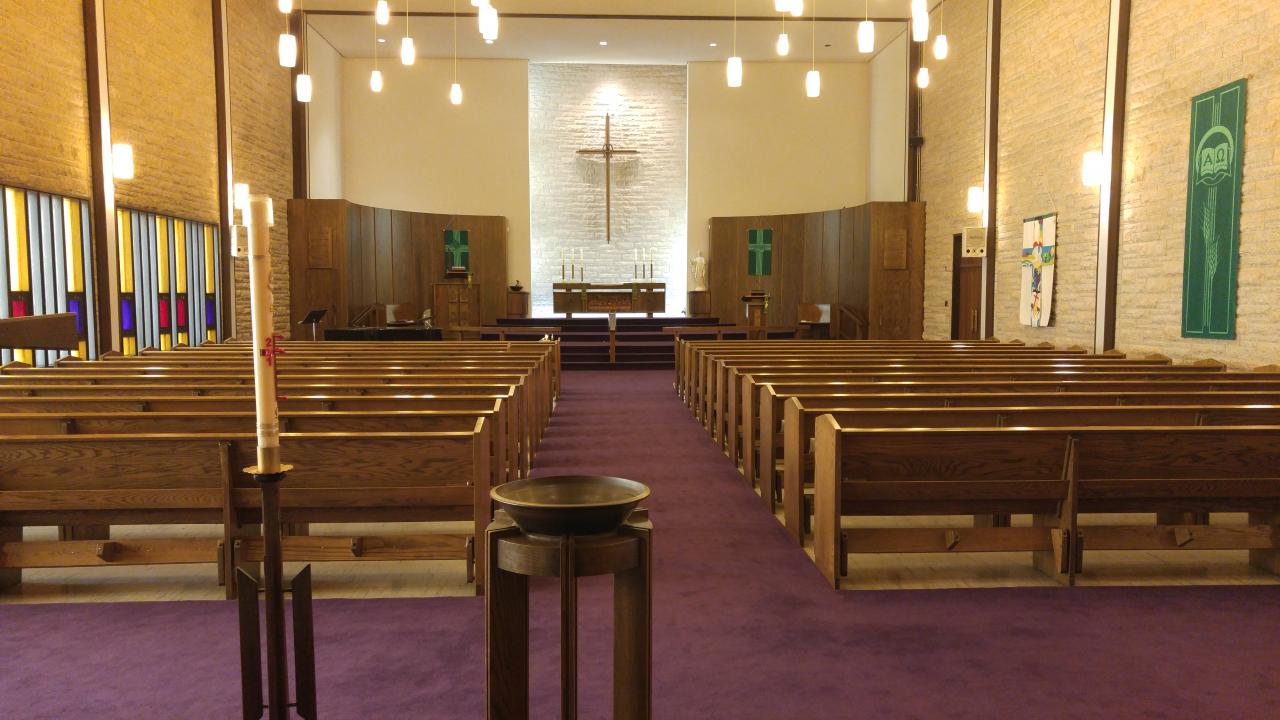 Our Church Sanctuary
Friend there is a welcome in this Church for thee.
Come in and rest and think and kneel and pray.
What we have built for God's glory see.
Give thanks and so in peace, go thy way.
Seating capacity is 375 with room for 100 in balcony.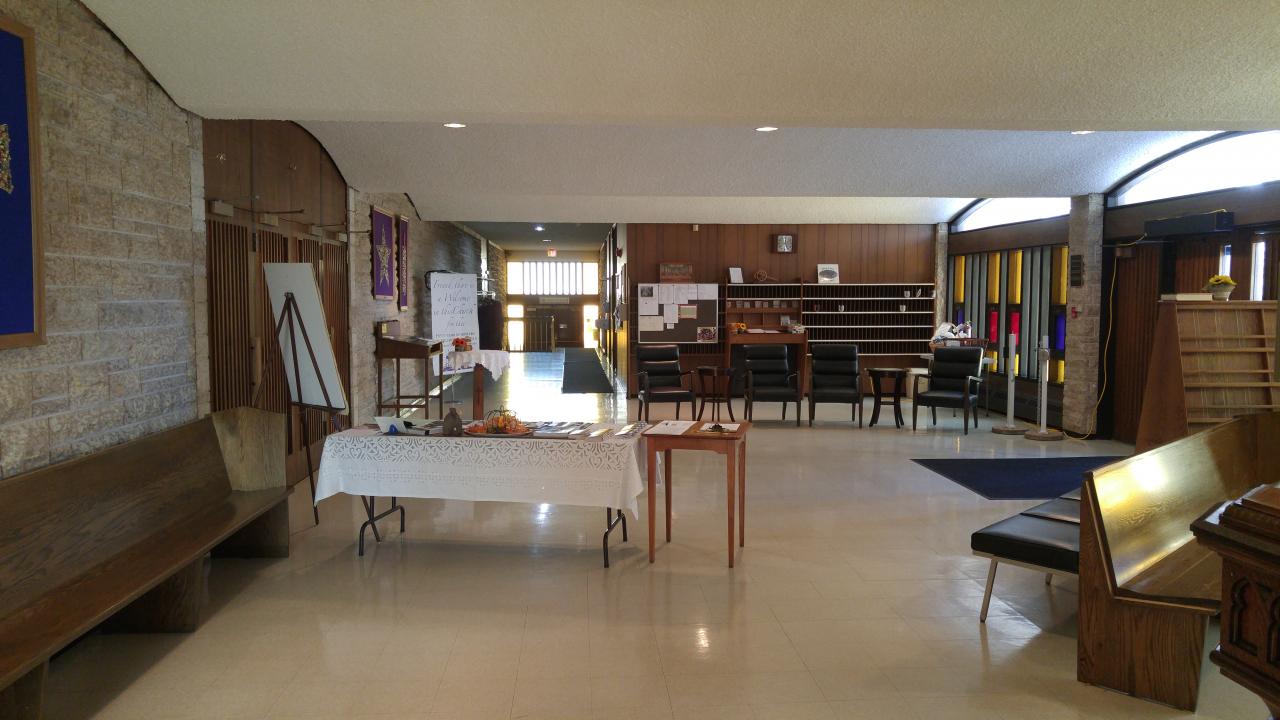 Narthex
The Symbols in Our Church- Upon entering the narthex, you pass under a three vaulted ceiling reminding us of the Trinity. The door handles are of metal and wood, embossed with a small metal cross.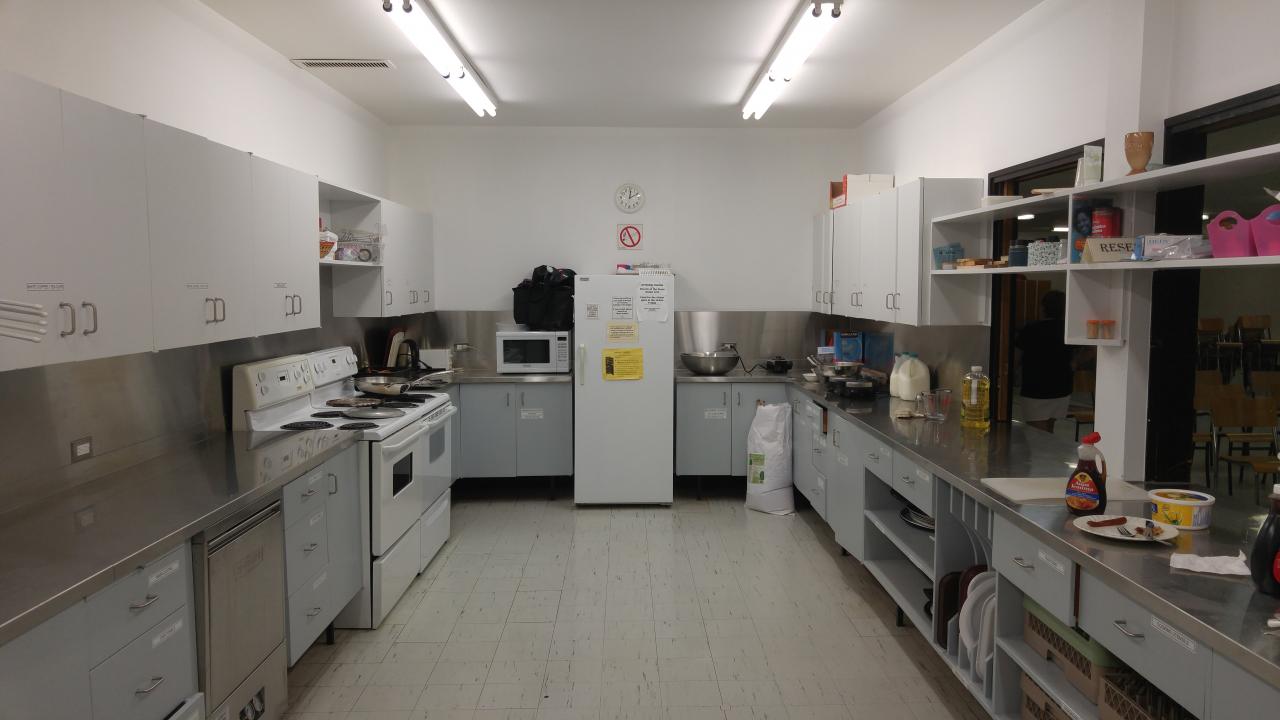 Church Kitchen
The kitchen is connected to the lower auditorium and can be used to prepare meals for various functions.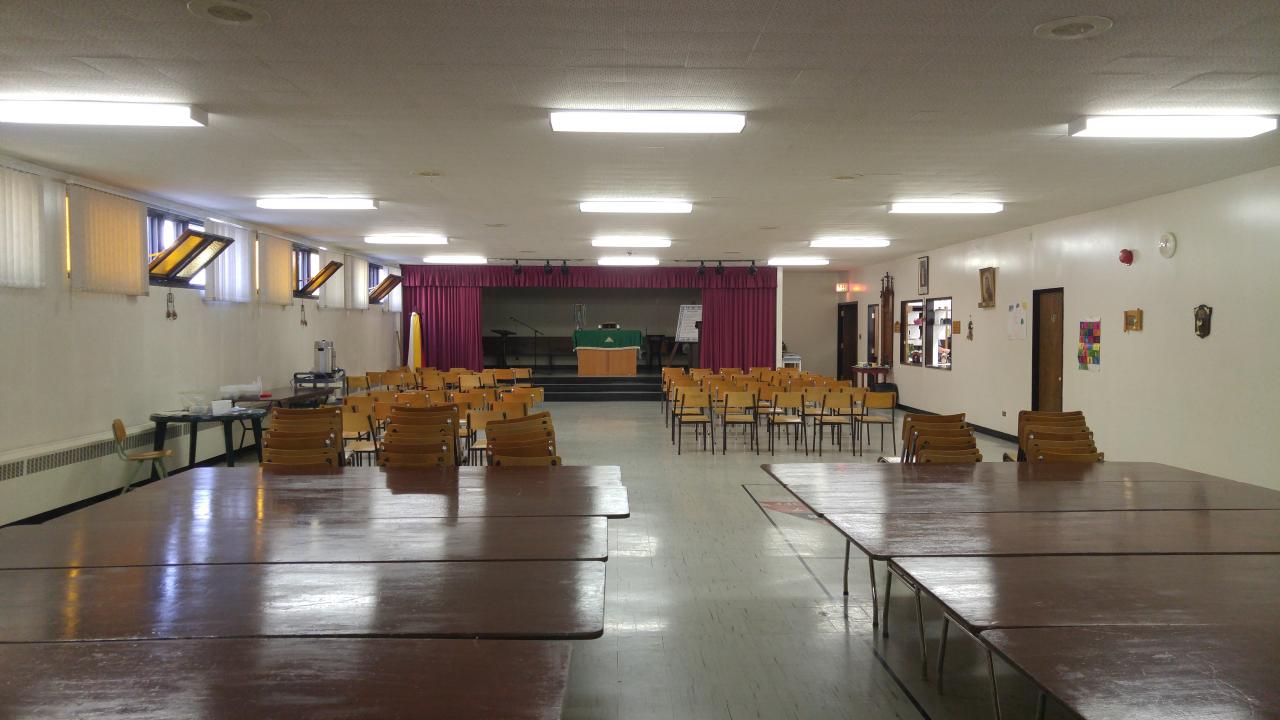 Lower Auditorium
Lower level auditorium 85 by 35 feet, seating capacity of 150.
Stage, kitchen, reception area, classrooms.
Windows all of stained glass
Message from Pastor Don Engel

Dear Friends in Christ
Louis L'Amour an American novelist once said, "The only thing that never changes is change itself." We are witnessing unprecedented change right now. We are always catching up. We long for "the good old days" when nothing seemed to change. But, this feeling of nostalgia for "the good old days" when nothing changed is false. Even back then, there was constant change. I remember how the house reeked of oil when Dad fueled up the space heater. I still see my mother putting the clothes through the hand wringer and hanging them out to dry in winter. No! I do not want to go back to the good old days."
So we have the present and the future. And, we do not know what the future holds. When will this dark pandemic end? When will we be able to gather again? When can we assemble to pray and sing God's praises? When will we approach the table and receive the bread and wine, the body and blood of Christ, again?

There is a constant that does not change. The love of God!

We become children of God in Holy Baptism, daughters and sons of God, brothers and sisters of Jesus. See what manner of love God has for us, that we should be called children of God.
(1 John 3 ) Through all the changes of life, God loves us. Through all the uncertainty of life we are children of God, beloved, forgiven, healed, at peace. God will light the way through this present darkness. God will lead us through the night to the dawning of a new day. An old song so vividly sings of God's abiding presence and love in dark times.
Abide with me, fast falls the eventide
The darkness deepens Lord, with me abide

When other helpers fail and comforts flee
Help of the helpless, oh, abide with me
Swift to its close ebbs out life's little day
Earth's joys grow dim, its glories pass away

Change and decay in all around I see

O Thou who changest not, abide with me

I fear no foe, with Thee at hand to bless.
Ills have no weight, and tears no bitterness

Where is death's sting? Where, grave, thy victory?
I triumph still, if Thou abide with me.
Hold Thou Thy cross before my closing eyes;
Shine through the gloom and point me to the skies.

Heaven's morning breaks, and earth's vain shadows flee;
In life, in death, O Lord, abide with me.
Abide With Me: words and music composed by Henry Francis Monk.
https://www.youtube.com/watch?v=6Che-qybTiU

Pastor Don
Don Engel
Worship:

Services CANCELLED until further notice
Office Hours:

Office is open reduced hours due to COVID-19.
Have a Blessed Season of Lent!