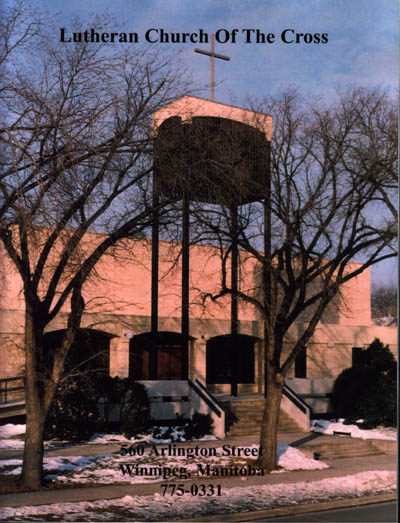 Lutheran Church of the Cross at 560 Arlington Street, Winnipeg, Manitoba,
is a member of the Manitoba Northwestern Ontario Synod (MNO Synod).
of the Evangelical Lutheran Church in Canada (ELCIC).
Evangelical Lutheran Church in Canada (ELCIC)
Worship is at 10:30 a.m. Sunday morning and Christmas and Good Friday.
Holy communion is celebrated twice a month.
The order of service and songs are from Evangelical Lutheran Worship.
The service including songs is projected on a screen above the chancel.
What is Liturgy?
Worship follows the pattern of Sunday Dinner.
Baptism, Remembrance of Baptism and Confession and Forgiveness are like washing hands before dinner.
Hearing and singing the Word is like the conversation around the table.
Receiving holy communion is like dining at the table.
Blessing and dismissal are like leaving the dinner table and taking leave.
We welcome everyone to come and join us for worship and participate in our community!
Getting Married, Baptism, Communion, Baby shower, Wedding Shower or meeting please contact Church office for availability at
204-775-0331. Church office hours are Monday and Friday 9 a.m. to Noon and Tuesday to Thursday 9:00 a.m.-1:00 p.m.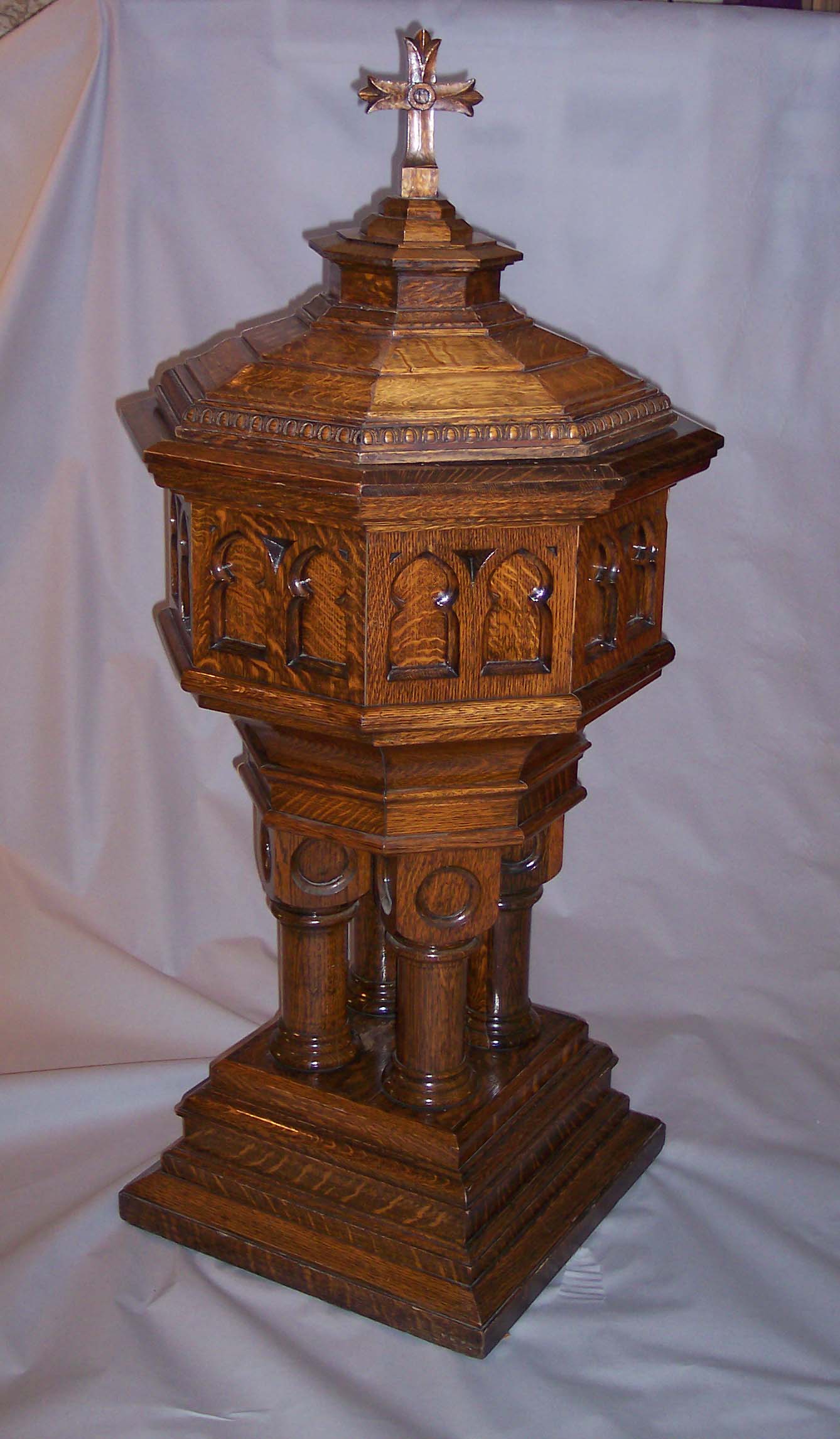 CHURCH ACTIVITIES:

Active Groups:
Choir:
Choir is led by our Music Director, Ian Walker.
Choir is active between September to June with a summer break during July and August.
Exciting and lively music offerings as well as traditional hymns.

Practices are held on Thursdays at 1:15 p.m. New members always wanted!
Ian Walker can be contact by e-mail iangwalker@hotmail.com
Ian began studying piano and joined his church choir when he was 7, and with only a few gaps he has been at it ever since. His family were all active choral singers, and his mother was the choir director.
When he was 29 and living in Peterborough he took up serious study of music: at one time he was going to four choir rehearsals a week. Later he became a church musician, gaining over 30 years of experience, in many different churches.
Ian has sung with several of the major choirs in Winnipeg. He is currently also the director of the Shalom Singers, a Jewish seniors choir. Among Ian's other musical talents are keyboard improvisation, solo singing, composition, and mandolin.
Music is an important part of Ian's life, but not the only thing. He worked for 25 years in Real Property management for the federal government, is a serious student of international politics, and enjoys gardening and house repairs.
He is married to Pastor Nancy Walker, and has 5 children and 5 grandchildren.
Golden Agers:
A Friday afternoon social gathering for seniors. The group has met regularly for 35 years. Activities include carpet bowling, table games and a social lunch together.
Golden Agers are meeting at the Arms of the Cross Lounge at 1:00 p.m. every Friday.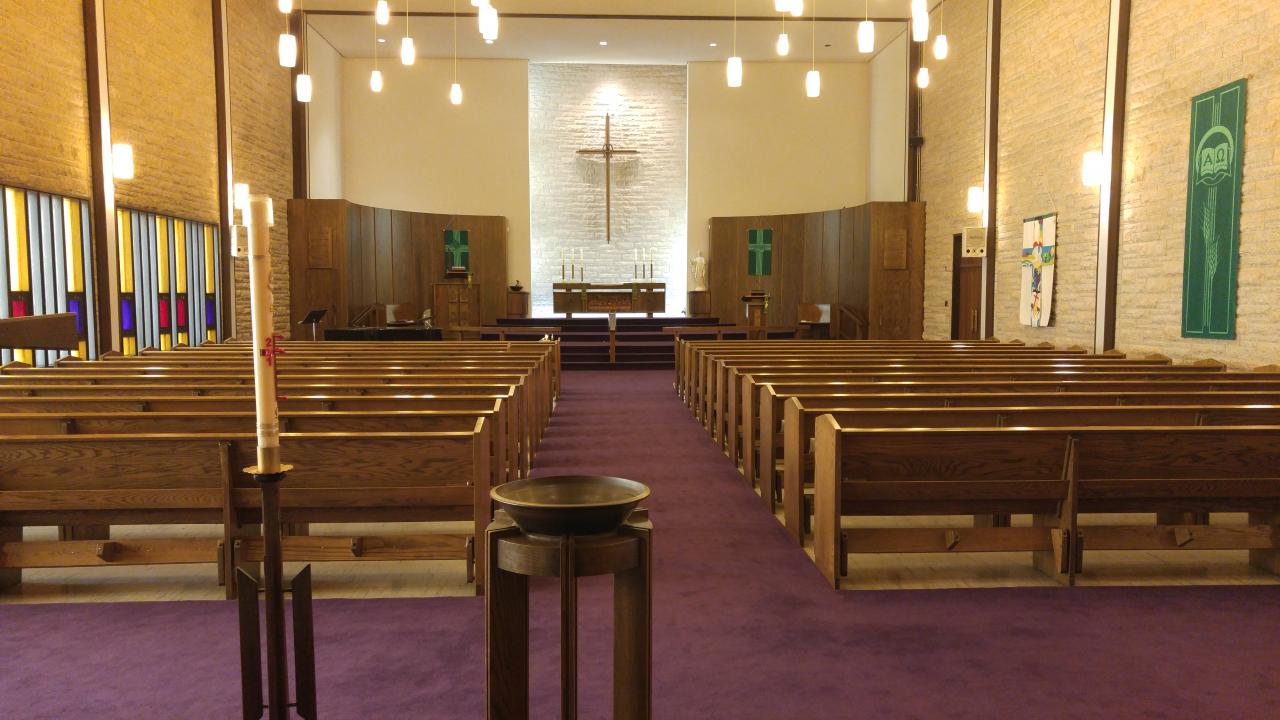 Our Church Sanctuary
Friend there is a welcome in this Church for thee.
Come in and rest and think and kneel and pray.
What we have built for God's glory see.
Give thanks and so in peace, go thy way.
Seating capacity is 375 with room for 100 in balcony.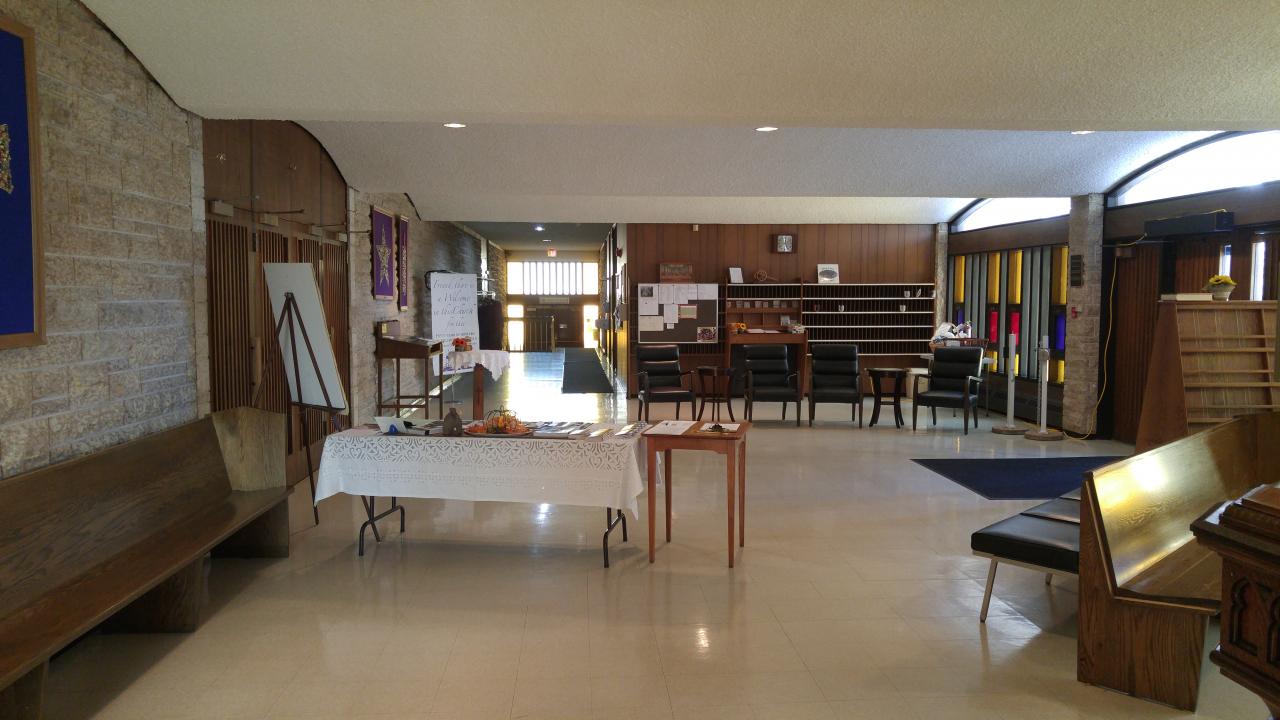 Narthex
The Symbols in Our Church- Upon entering the narthex, you pass under a three vaulted ceiling reminding us of the Trinity. The door handles are of metal and wood, embossed with a small metal cross.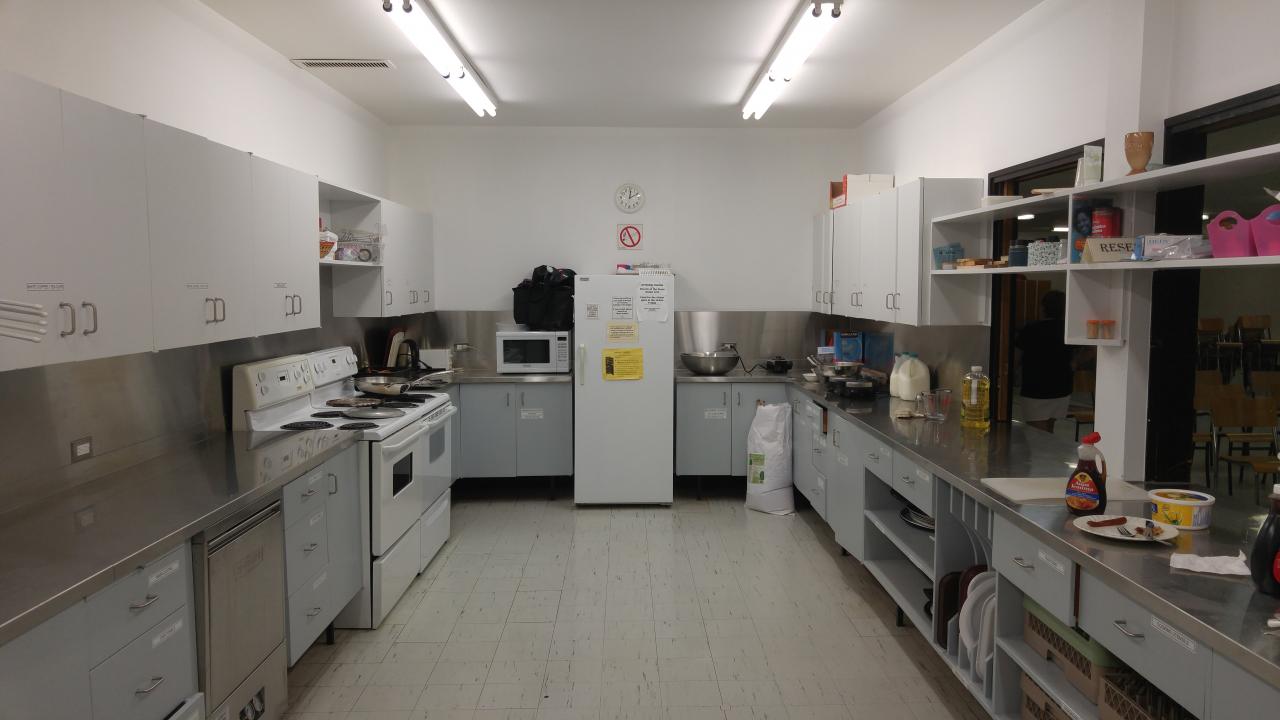 Church Kitchen
The kitchen is connected to the lower auditorium and can be used to prepare meals for various functions.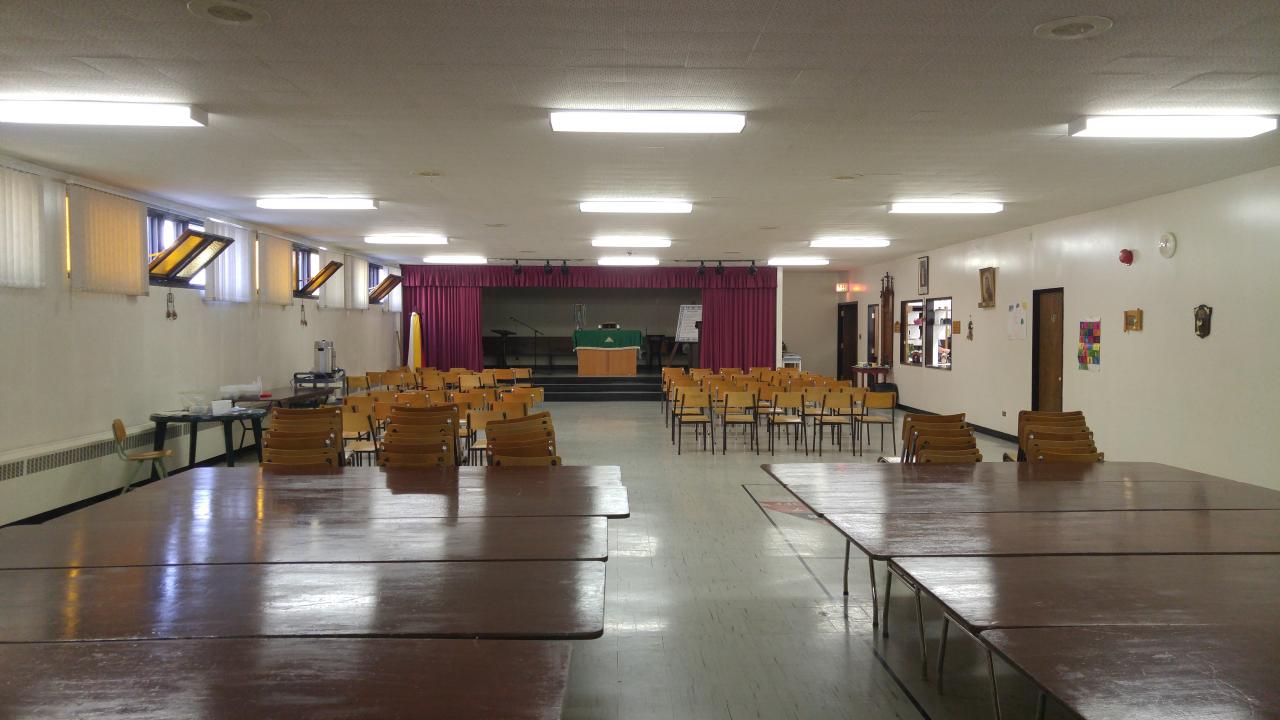 Lower Auditorium
Lower level auditorium 85 by 35 feet, seating capacity of 300.
Stage, kitchen, reception area, classrooms.
Windows all of stained glass
Message from Pastor Don Engel
Dear friends in Christ
I write this on a cold January morning a week before we leave for Costa Rica. Sunrises at 6:00 and stunning sunsets at 6:00. Not the daily variation we experience in Winnipeg. In mid January about three weeks after the Winter Solstice on December 21 we notice the days getting longer. The return of the sun brings Lent and the Vernal Equinox on March 22 which is the Spring Equinox in the Northern Hemisphere. The Vernal Equinox determines the date of Easter. Easter is the first Sunday after the first full moon after the Vernal Equinox. Saint Peter will not be asking you that question at the Pearly Gates.
The return of the sun and spring and Lent and Easter is always welcome. We no longer have to get up at in winter 6:30 7:30 8:30 are all dark. Dark 30. The rising sun ushers us through the darkness of Lent to the light of Resurrection morning. Easter is the highest and holiest holiday were celebrate. After we journey through the dark of winter, the temptations of life, the fasting, praying and alms giving, trials, crucifixion, death and grave of Lent, we long for the light of Easter. The light of Jesus shine from beyond the grave.
May the returning sun daily remind us of the glorious resurrection light and life that burst forth in Jesus on Resurrection Morning. Christ is risen. Risen in deed.
Pastor Don
Worship:
Lent (begins Wednesday, March 6 ends Saturday, April 20)

March 24 Pastor Lenise Francis-Worship

March 31 Pastor Lenise Francis-Worship
April 7 Pastor Nancy Walker-Worship
April 14-20 Holy week
April 14 Palm Sunday Pastor Don Engel-
Holy Communion
April 19 Good Friday Pastor Don Engel (2 services)
9:30 a.m. German Communion
10:30 a.m. English no Communion
April 20 Easter Vigil Pastor Nancy Walker-
Holy Communion
April 21 Easter Sunday Pastor Don Engel-
Holy Communion
April 28 Pastor Lenise Francis-Worship
May 5 Pastor Lenise Francis-Worship
May 12 Mother's Day Pastor Don Engel-
Holy Communion
May 19 Pastor Nancy Walker-Holy Communion
May 26 Pastor Don Engel-Healing Service
Arms of the Cross Communion Service 2:00 p.m.
April 3 Holy Communion

May 1 Holy Communion
Services are provided by Pastor Nancy Walker.
Choir: Choir rehearsal is every Thursday at 1:15 p.m.
Church Council: Next meeting will be on Monday
April 8th and May 13th at 6:00 p.m.
Golden Agers: Golden Agers will continue to meet at Arms of the Cross lounge at 1:00 p.m.
Messy Church: will meet on Saturday
April 13th and May 11th at 5:00 p.m.
Lutheran Urban Ministry 2018
The Lutheran Urban Ministry is so grateful for the support from our landlord, the Evangelical Lutheran Church of the Cross. We also know that we are in the prayers of the congregations because blessings abound at the Urban in countless ways.
The Urban feeds the body and spirit: a gathering place for fellowship, worship, sharing, listening, meals, spiritual care, laughter and sometimes tears. It is a safe place of refuge in the daily struggles of life.
The Lutheran Urban Ministry Corp. began over 15 years ago as the Lutheran Urban Mission in the basement of First English Lutheran Church. Incorporated in 2007, and now renting in the lower level of Lutheran Church of the Cross, lasting friendships have formed and the Urban is woven into the fabric of many lives.
Over 10,000 meals were served in 2018 for Wednesday Men's Group lunches, Wednesday and Thursday suppers and lunch after the Sunday worship services. A core group of approximately 175 people, including many children, attend each month. Trust has built because of the respect and honour that the Urban has for the spiritual traditions and beliefs of our First Nations peoples.
Some of the highlights of 2018:
April 11: Presentation by a constable from the WPG Police Service on Crime Awareness and Personal Safety during our supper hour. Community safety through deterrence, education and awareness.
May 7: A one day Food Handling Certificate course made possible by a Compassionate Justice/Anti-Poverty Grant from the ELCIC. Twelve Urban community members received certificates.
A wonderful help to those who wish to work in the restaurant industry. Beaming faces that day!
May 20: Urban Annual Pentecost Picnic in the Park. Worship, sandwiches, baseball, and kid's games!
June 20: A paramedic from the Winnipeg Paramedic Fire Services (WPFS) gave a presentation on Fentanyl/Opioids/Street Drug Education during the supper hour.
September 22: Bus trip to a Sweat Lodge Ceremony at Sandy-Saulteaux Spiritual Centre, Beausejour.
September 29: Ride for Refuge fundraiser for the Urban. Four teams and a great success!
November 18: Redesigned website! Supports video! New photos! Monthly newsletters continuing. The link to the Urban short documentary film Hope is Never Lostison the main page of our website.
December 23 Worship Service: 186 Christmas gift bags (including 66 for children with names and ages) were filled from the generosity of so many people. An additional 90 smaller gift bags filled with toiletries and socks were donated as well. Over 135 people attended that day and all gifts given away.
We welcome all because God welcomes all, regardless of age, ability, health, ethnicity, gender identity, language, sexual orientation, life circumstances, marital status, race, or anything else which sometimes divides us. We welcome diversity and uniqueness. Our unity is in Christ, whose grace is freely given to all.
All are welcome. Rhonda Gorham Ministry Manager
Please watch Urban Ministry short document film
for more information of their Ministry.
http://www.fatecommunications.ca/Hope.html

Blessed Lent, Easter and long expected spring!