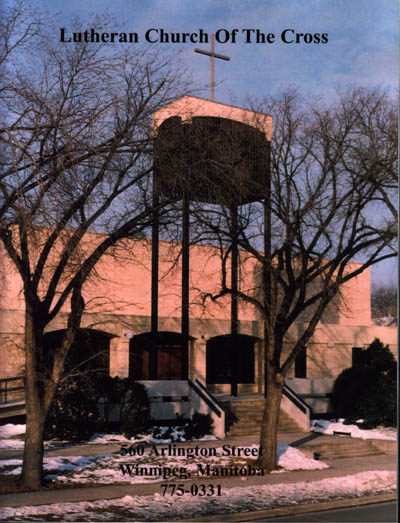 Lutheran Church of the Cross at 560 Arlington Street, Winnipeg, Manitoba,
is a member of the Manitoba Northwestern Ontario Synod (MNO Synod).
http://www.mnosynod.org
of the Evangelical Lutheran Church in Canada (ELCIC).
Evangelical Lutheran Church in Canada (ELCIC)
Worship is at 10:30 a.m. Sunday morning and Christmas and Good Friday.
Holy communion is celebrated twice a month.
The order of service and songs are from Evangelical Lutheran Worship.
The service including songs is projected on a screen above the chancel.
What is Liturgy?
Worship follows the pattern of Sunday Dinner.
Baptism, Remembrance of Baptism and Confession and Forgiveness are like washing hands before dinner.
Hearing and singing the Word is like the conversation around the table.
Receiving holy communion is like dining at the table.
Blessing and dismissal are like leaving the dinner table and taking leave.
We welcome everyone to come and join us for worship and participate in our community!
Getting Married, Baptism, Communion, Baby shower, Wedding Shower or meeting please contact Church office for availability at
204-775-0331. Church office hours are Monday and Thursday 9 a.m. to Noon and Friday's closed.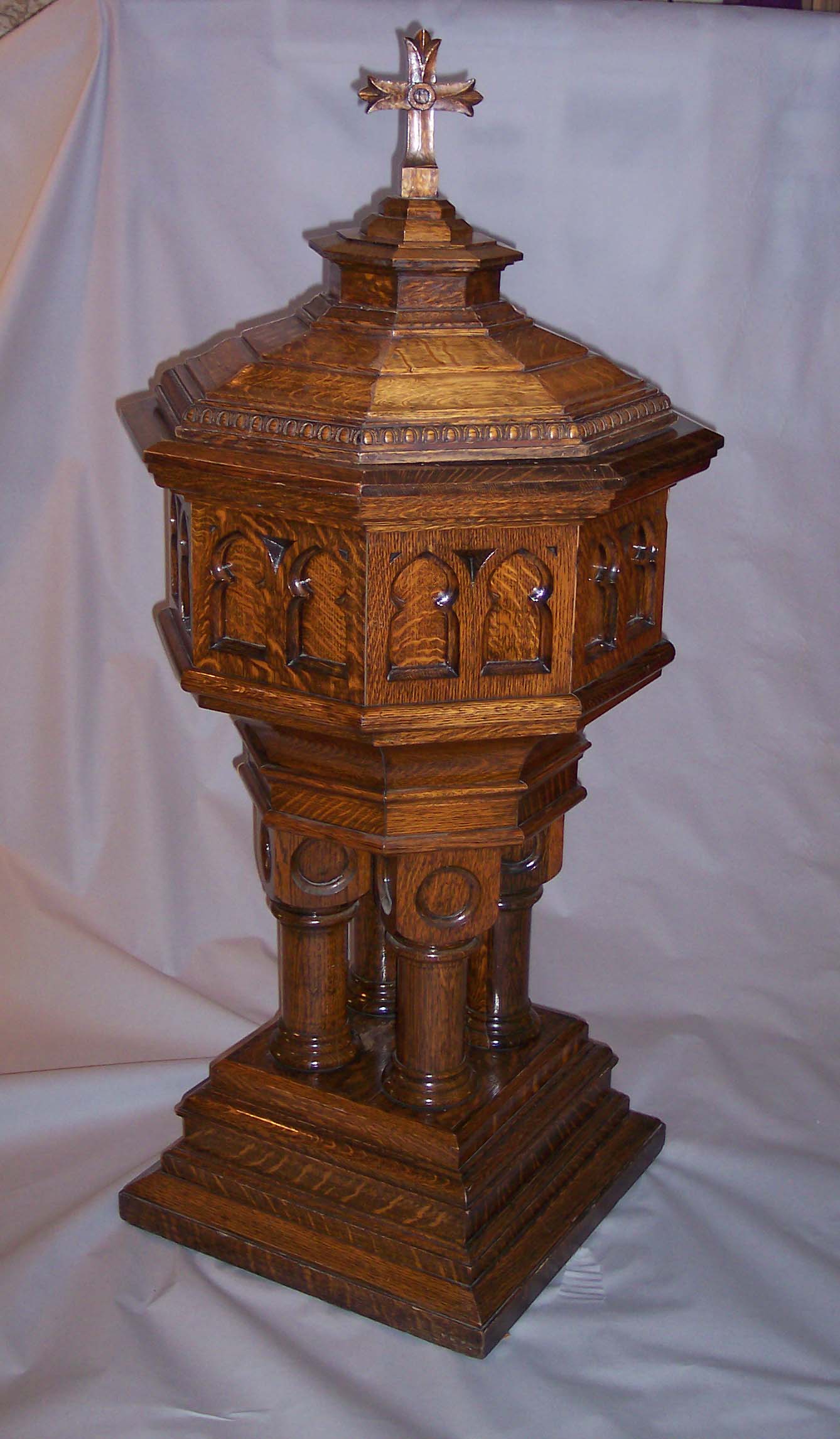 CHURCH ACTIVITIES:

Active Groups:
Choir:
Choir is led by our Music Director, Ian Walker.
Choir is active between September to June with a summer break during July and August.
Exciting and lively music offerings as well as traditional hymns.

Practices are held on Thursdays at 1:15 p.m. New members always wanted!
Ian Walker can be contact by e-mail iangwalker@hotmail.com
Ian began studying piano and joined his church choir when he was 7, and with only a few gaps he has been at it ever since. His family were all active choral singers, and his mother was the choir director.
When he was 29 and living in Peterborough he took up serious study of music: at one time he was going to four choir rehearsals a week. Later he became a church musician, gaining over 30 years of experience, in many different churches.
Ian has sung with several of the major choirs in Winnipeg. He is currently also the director of the Shalom Singers, a Jewish seniors choir. Among Ian's other musical talents are keyboard improvisation, solo singing, composition, and mandolin.
Music is an important part of Ian's life, but not the only thing. He worked for 25 years in Real Property management for the federal government, is a serious student of international politics, and enjoys gardening and house repairs.
He is married to Pastor Nancy Walker, and has 5 children and 5 grandchildren.
Golden Agers:
A Friday afternoon social gathering for seniors. The group has met regularly for 35 years. Activities include carpet bowling, table games and a social lunch together.
Golden Agers are meeting at the Arms of the Cross Lounge at 1:00 p.m. every Friday.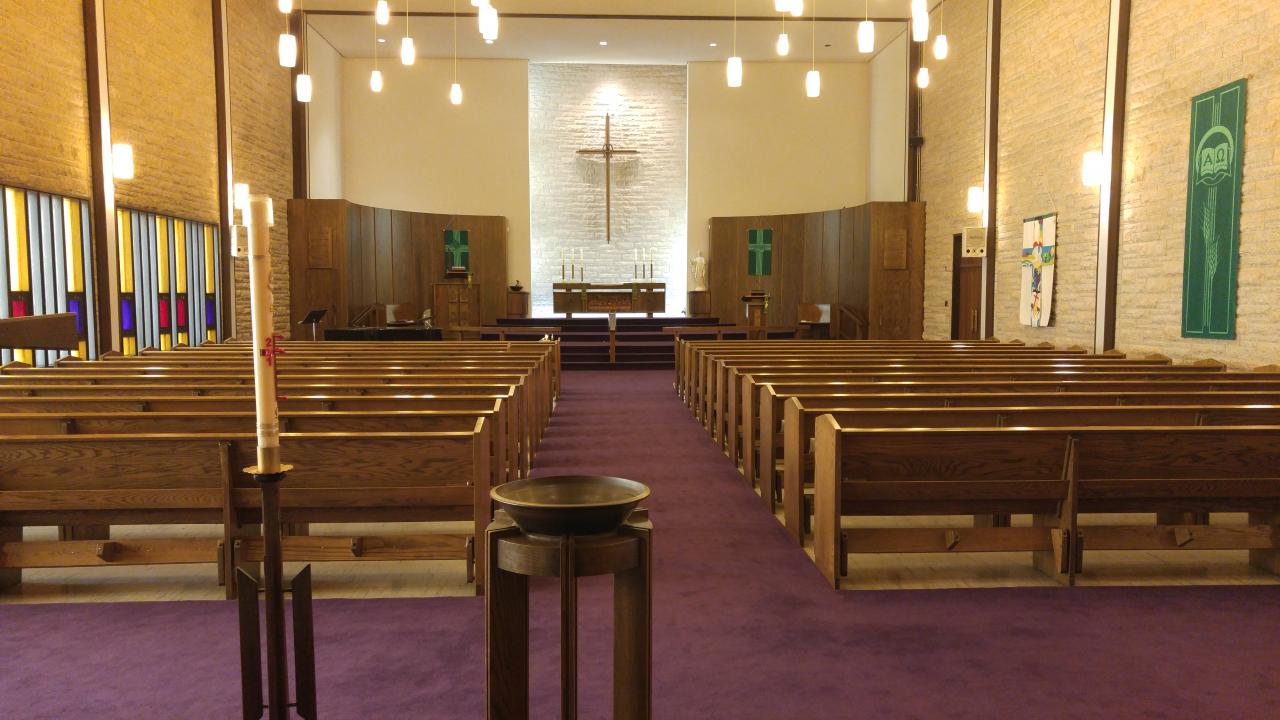 Our Church Sanctuary
Friend there is a welcome in this Church for thee.
Come in and rest and think and kneel and pray.
What we have built for God's glory see.
Give thanks and so in peace, go thy way.
Seating capacity is 375 with room for 100 in balcony.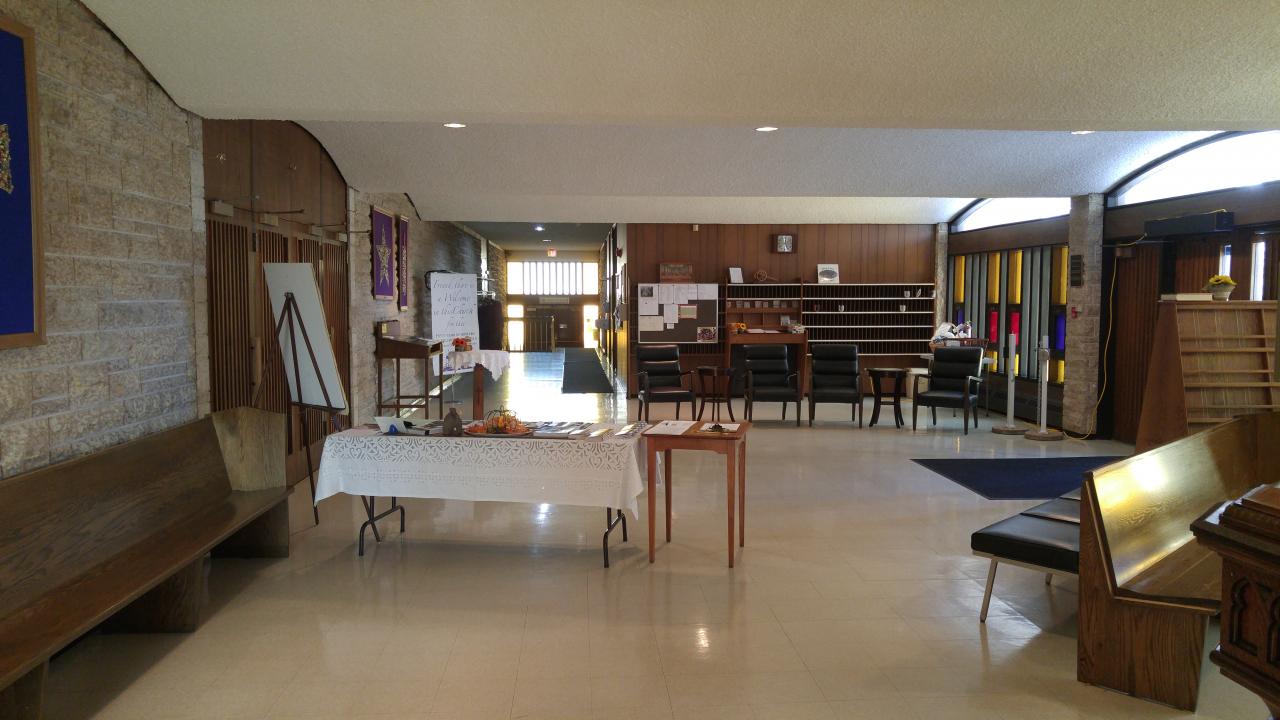 Narthex
The Symbols in Our Church- Upon entering the narthex, you pass under a three vaulted ceiling reminding us of the Trinity. The door handles are of metal and wood, embossed with a small metal cross.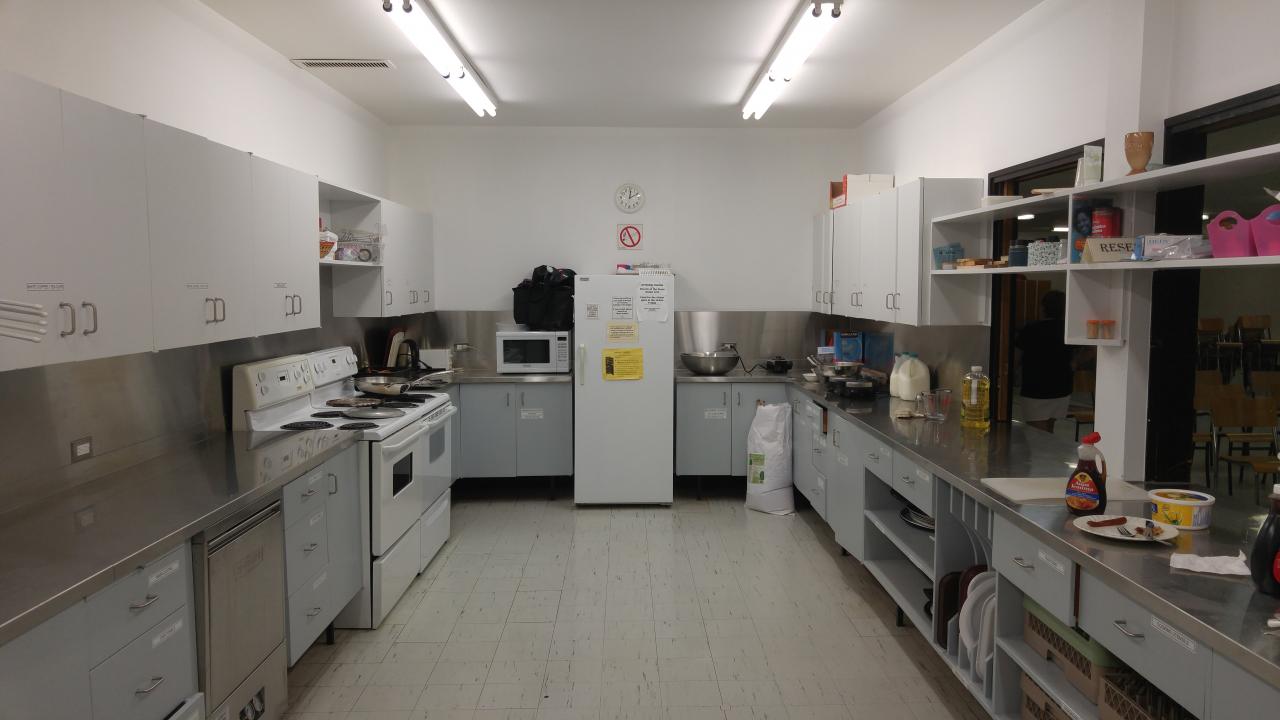 Church Kitchen
The kitchen is connected to the lower auditorium and can be used to prepare meals for various functions.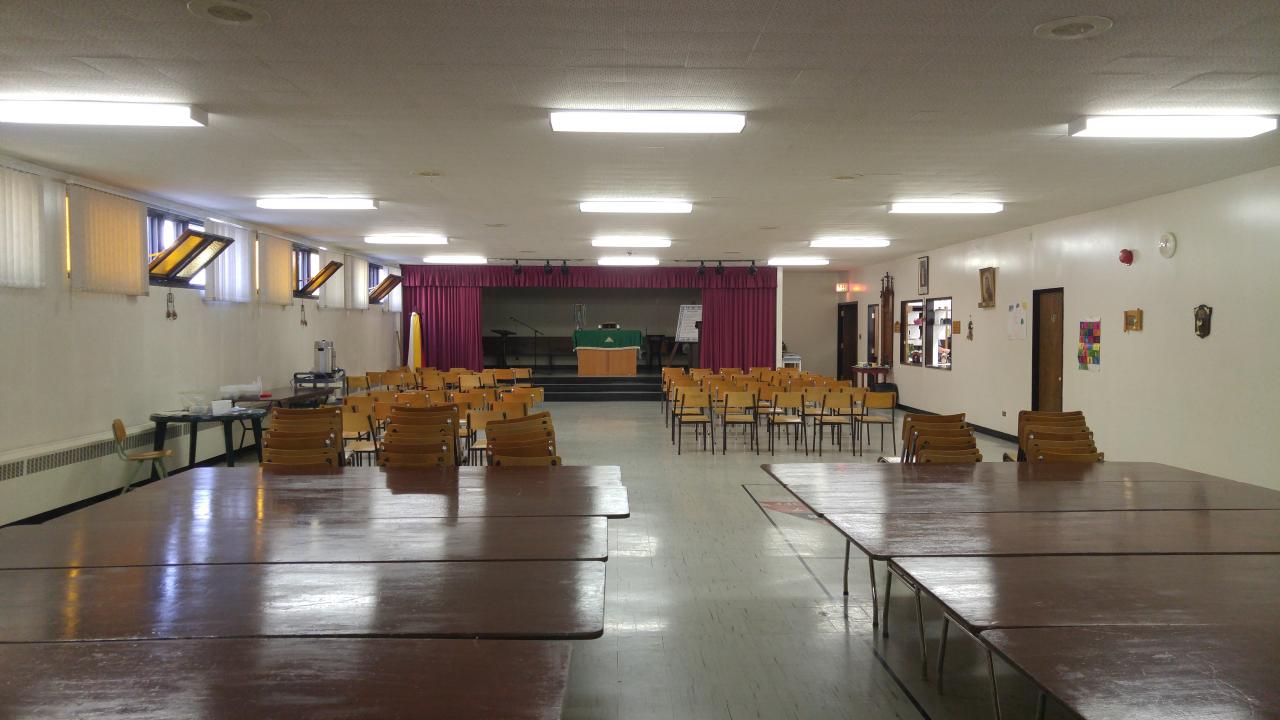 Lower Auditorium
Lower level auditorium 85 by 35 feet, seating capacity of 150.
Stage, kitchen, reception area, classrooms.
Windows all of stained glass
Message from Pastor Don Engel

Dear Friends in Christ
Family and Friends of Lutheran Church of the Cross
Office:

Lutheran Church of the Cross, 560 Arlington St.Winnipeg MB
Administrative Assistant needed Part Time - 18 hours a week maximum
Job Description - Reporting to the Pastors, the Admin Assistant provides support for the pastors, the organist/choir director, the Church Council and it's committees. Due to the nature of this role, this individual must demonstrate a high level of trust and the ability to protect the reputation and the integrity of others through strict confidentiality. The willingness to learn new skills, work as a team player and overall dependability/accessibility are very important.
Qualifications - Clerical, communications, computer and organizational skills. Proficiency with Microsoft Office (word) and PowerPoint are necessary. Effective verbal, written, editorial and publishing skills with a high degree of accuracy are also required. A caring attitude, excellent people skills , integrity along with being responsible and flexible to handle the changing needs of the church.
Responsibilities - Preparation/publication of the weekly church bulletin and powerPoint including formatting, spell check, proofreading, etc. Download the weekly worship services from Sundays and Seasons website and also include other information as required. Open and distribute mail. Schedule worship helpers. Answer telephone and greet visitors. Upkeep of church rentals, calendars, event scheduling, bulletin boards, church e-mail and update the church website. Maintain Church records. Maintain office equipment and order office supplies. Prepare certificates for baptism, confirmation, sponsorship. Prepare and compile the Annual Report for congregational meeting. Update subscription lists. Update outdoor sign board.
Financial reporting - Enter weekly offerings, reconcile monthly bank statement; prepare income statement and yearly offering statements. Proficiency with Excel Spreadsheet is necessary.
For more information or to submit a resume, please respond to crosswinnipeg@mymts.net.
Deadline for applications: October 6, 2021
Have a Blessed October!