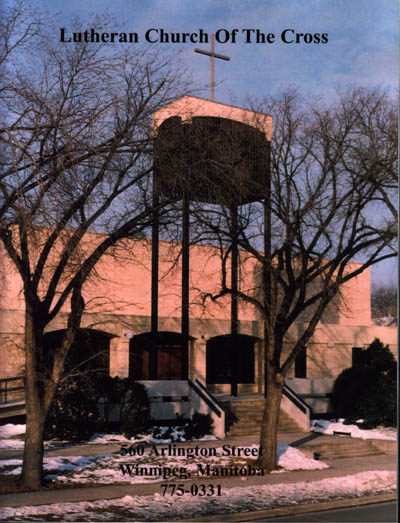 Lutheran Church of the Cross at 560 Arlington Street, Winnipeg, Manitoba,
is a member of the Manitoba Northwestern Ontario Synod (MNO Synod).
of the Evangelical Lutheran Church in Canada (ELCIC).
Evangelical Lutheran Church in Canada (ELCIC)
Worship is at 10:30 a.m. Sunday morning and Christmas and Good Friday.
Holy communion is celebrated twice a month.
The order of service and songs are from Evangelical Lutheran Worship.
The service including songs is projected on a screen above the chancel.
What is Liturgy?
Worship follows the pattern of Sunday Dinner.
Baptism, Remembrance of Baptism and Confession and Forgiveness are like washing hands before dinner.
Hearing and singing the Word is like the conversation around the table.
Receiving holy communion is like dining at the table.
Blessing and dismissal are like leaving the dinner table and taking leave.
We welcome everyone to come and join us for worship and participate in our community!
Getting Married, Baptism, Communion, Baby shower, Wedding Shower or meeting please contact Church office for availability at
204-775-0331. Church office hours are Monday and Friday 9 a.m. to Noon and Tuesday to Thursday 9:00 a.m.-1:00 p.m.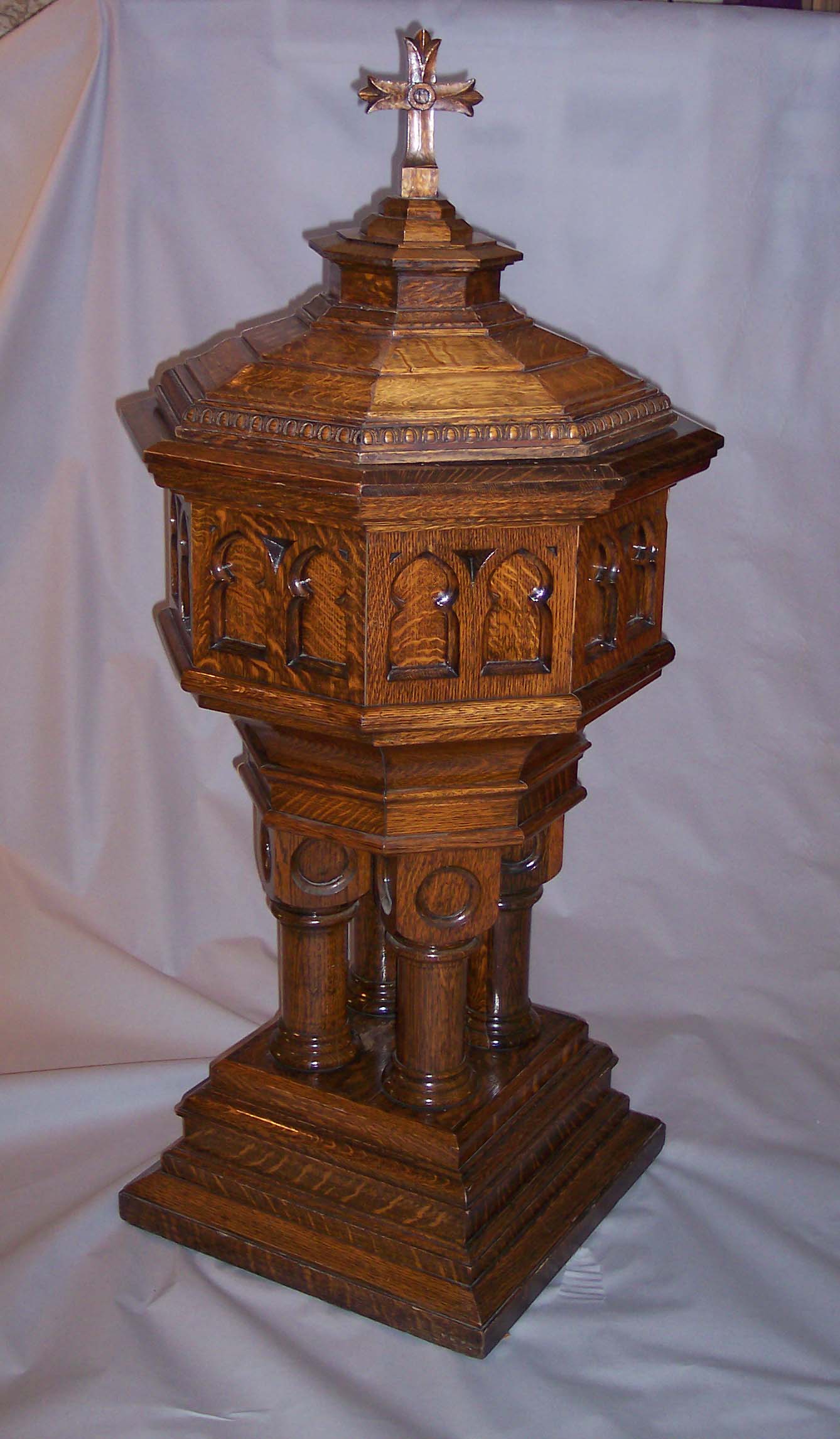 CHURCH ACTIVITIES:

Active Groups:
Choir:
Choir is led by our Music Director, Ian Walker.
Choir is active between September to June with a summer break during July and August.
Exciting and lively music offerings as well as traditional hymns.

Practices are held on Thursdays at 1:15 p.m. New members always wanted!
Ian Walker can be contact by e-mail iangwalker@hotmail.com
Ian began studying piano and joined his church choir when he was 7, and with only a few gaps he has been at it ever since. His family were all active choral singers, and his mother was the choir director.
When he was 29 and living in Peterborough he took up serious study of music: at one time he was going to four choir rehearsals a week. Later he became a church musician, gaining over 30 years of experience, in many different churches.
Ian has sung with several of the major choirs in Winnipeg. He is currently also the director of the Shalom Singers, a Jewish seniors choir. Among Ian's other musical talents are keyboard improvisation, solo singing, composition, and mandolin.
Music is an important part of Ian's life, but not the only thing. He worked for 25 years in Real Property management for the federal government, is a serious student of international politics, and enjoys gardening and house repairs.
He is married to Pastor Nancy Walker, and has 5 children and 5 grandchildren.
Golden Agers:
A Friday afternoon social gathering for seniors. The group has met regularly for 35 years. Activities include carpet bowling, table games and a social lunch together.
Golden Agers are meeting at the Arms of the Cross Lounge at 1:00 p.m. every Friday.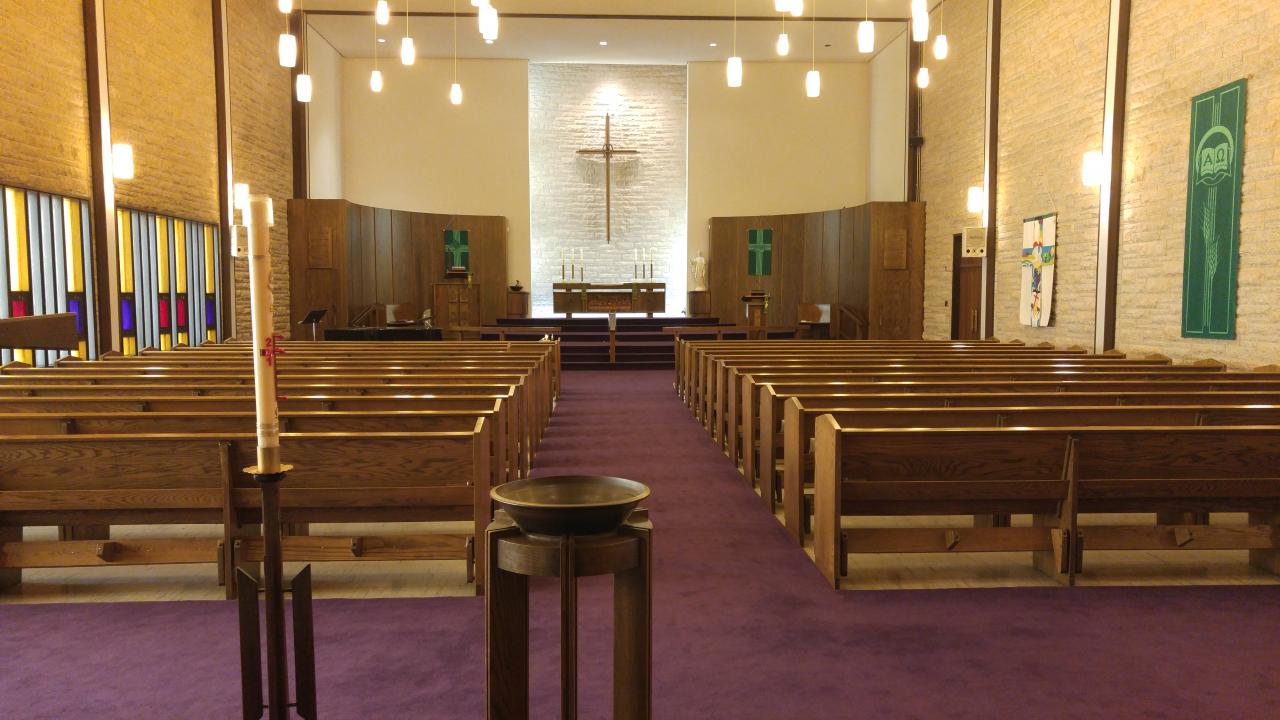 Our Church Sanctuary
Friend there is a welcome in this Church for thee.
Come in and rest and think and kneel and pray.
What we have built for God's glory see.
Give thanks and so in peace, go thy way.
Seating capacity is 375 with room for 100 in balcony.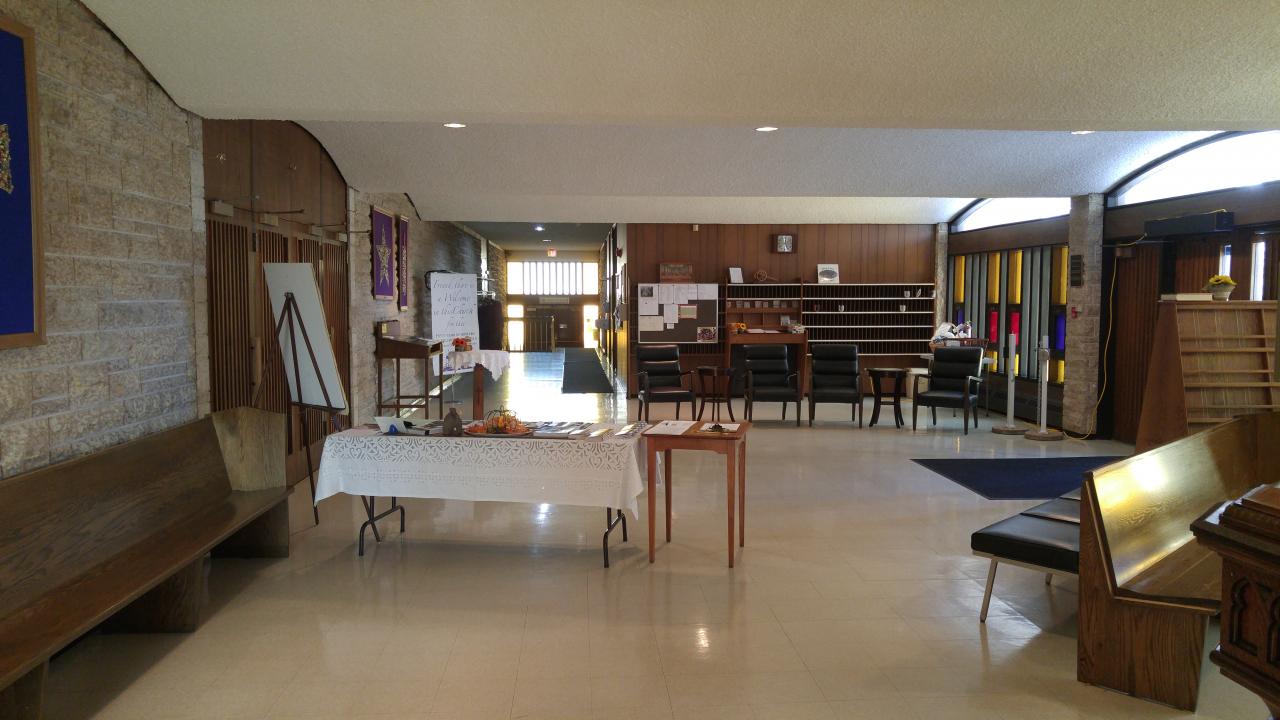 Narthex
The Symbols in Our Church- Upon entering the narthex, you pass under a three vaulted ceiling reminding us of the Trinity. The door handles are of metal and wood, embossed with a small metal cross.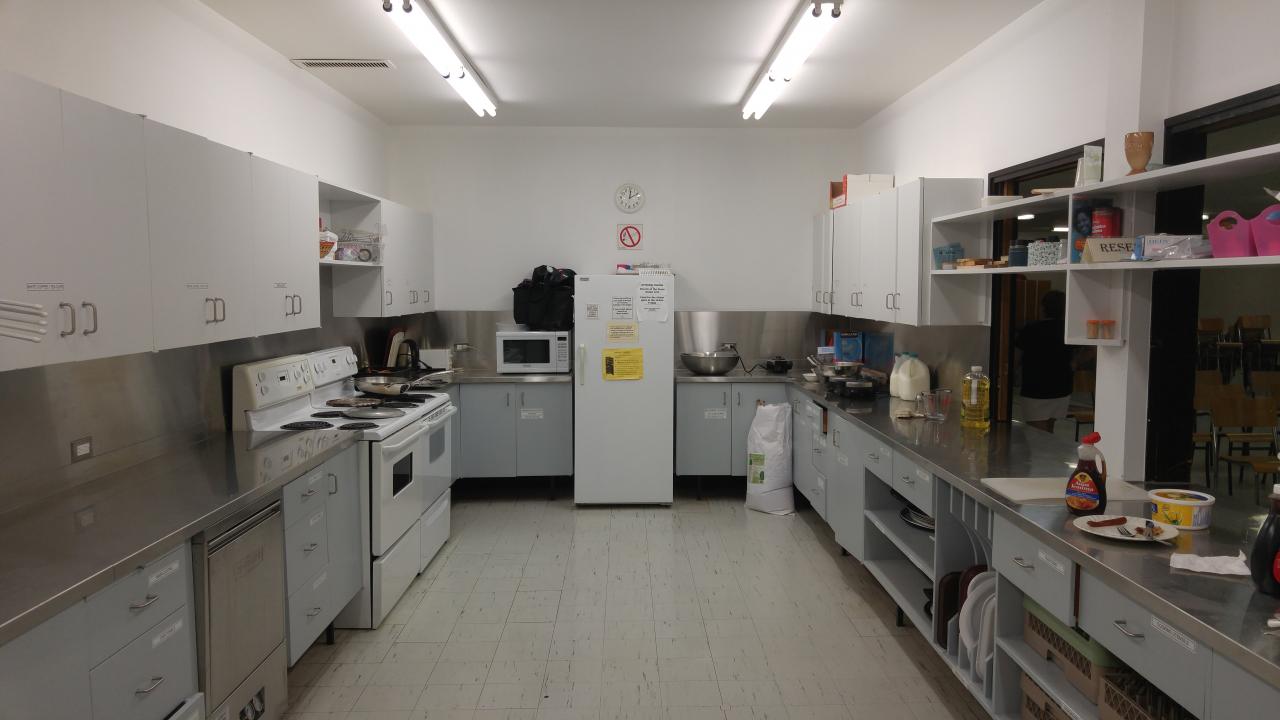 Church Kitchen
The kitchen is connected to the lower auditorium and can be used to prepare meals for various functions.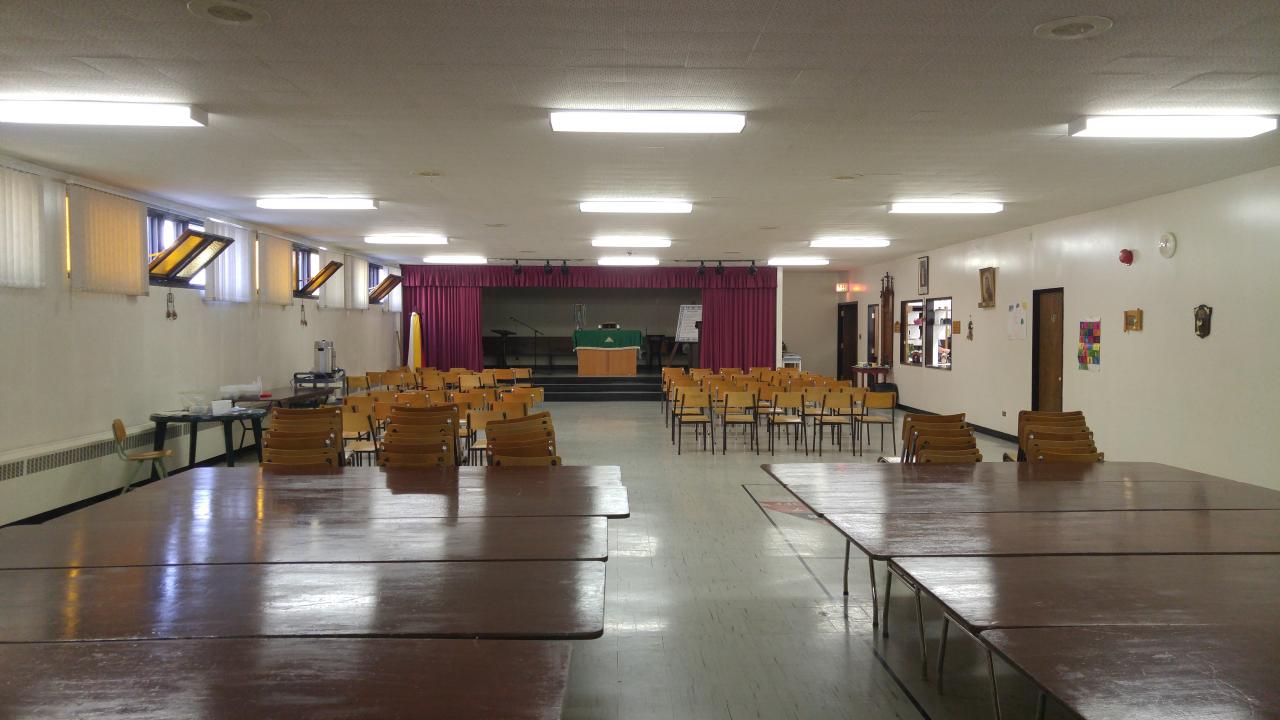 Lower Auditorium
Lower level auditorium 85 by 35 feet, seating capacity of 300.
Stage, kitchen, reception area, classrooms.
Windows all of stained glass
Message from Pastor Don Engel

Dear Friends in Christ
This coming Trinity Sunday, June 7, marks the Fiftieth Anniversary to the exact date of my ordination into the Lutheran Ministry. I planned to preside and preach at the service at Lutheran Church of the Cross. My granddaughter on the trumpet accompanied by Donna playing the Gathering Song, Holy, Holy, Holy Lord God Almighty. My little grandchildren sing singing, Take, O Take Me As I Am. Friends playing Jazzy saxophone and clarinet for the Hymn of the Day, Just A Closer Walk With Thee. Annie assisting me at the altar. Ian singing the plain chant version of the Ordination Hymn, Come Holy Ghost Our Souls Inspire. Donna and I were going to host a lunch from Ira's Deli after the service. But, here we are sitting at home, still isolated and still distanced.
My first parish was a challenge. I almost left the ministry to go into the John Deere business with my Dad. But, Pastor Wally Kurtz, Pastor Michael's father, arranged a call for me. It was a new beginning, and have never looked back, nor regretted staying in the ministry. Ministry is a strong tradition I n both sides of my family. On my father's side we are five cousins in the ordained ministry of the ELCIC, Harold Martin, Don Engel, Kim Sherwin, Amber Hoffman and Richard Engel, all descendants of Michael and Anna Marie Engel. On my mother's side we are three cousins also ordained into the Lutheran Ministry, George Schaefer, David Schaefer and Reinhold Propp all descendants of Great Grandfather Jacob Leis. Like the prophets of old, we all heard the call in one way or another and responded like Isaiah, "Here am I. Send me."
So, thanks be to God who chose me and my cousins, and all ordained and lay leaders as Jesus says, "You did not chose me, but I chose you, and ordained you, that should go forth and bear good fruit, fruit that shall remain."
Thanks be to God.
Pastor Don
Worship:

August 9 10th Sunday after Pentecost Holy Communion Pastor Don Engel

August 16 11th Sunday after Pentecost Worship Service Pastor Don Engel
August 23 12th Sunday after Pentecost Worship Service Pastor Lenise Francis
August 30 13th Sunday after Pentecost Worship Service Pastor Lenise Francis
Arms of the Cross Communion Service 10:00 a.m.
No services during the month of August.

Services will resume on Wednesday September 9th.
Services are provided by Pastor Nancy Walker.
Choir: TBO
Church Council: No meetings during the months of August and September.
Golden Agers: Golden Agers are on summer break until September.
Messy Church: TBO
Office Summer Hours:

During the month of August office will be open Monday-Thursday 9:00 a.m.-noon and closed on Fridays.
Urban Ministry:
Dear MNO Congregations,
Please keep the struggling and vulnerable people who attend the Urban, and those throughout the world, in your prayers especially during this pandemic. Our Lutheran Urban Ministry outreach here in the West End is so important in these times.
Thank you so much for all of your support and prayers and thank you so much to all of the meal teams for supplying so many bagged lunches in place of our Wednesday men's group lunches, Wednesday and Thursday suppers and Sunday lunches!
This is so appreciated and I know that our Urban community, who miss coming downstairs, are so happy to still have the routine of going out the door and walking to the Urban on Sundays, Wednesdays and Thursdays. Fellowship is happening, albeit briefly, on the church sidewalk and parking lot.
Kind regards,
Rhonda Gorham

Ministry Manager
Have a Blessed Summer!